In the real world, Russia is declaring war on the Ukraine, causing international markets to fall, Obama considers diplomatic steps to "isolate Russia," and Syria has now added "gang fights" to their ever growing list of economic problems.
However, deep in the heart of reality TV drama and rose gardens lies the world's next life-or-death decision:
who will Juan Pablo give a final rose to?
Let's continue with this serious question in mind.
Finally, it's time for everyone's favorite episode. The Bachelor Sharks Tell All.
But first things first. We need to bring out the last successful couple that ABC churned out of the woodwork. Sean and Catherine. America is especially interested in this couple because Sean was a virgin and we live in a sad world where things of this sort are rare and often frowned upon.
Ahh,
Sean and Catherine
enter the room, as a cloud of newlywed particles and fairy dust radiate their aura. And since I'm a girl,
and because I'm a bitch,
I think I should point out that Catherine looks like she's gained some healthy pounds. Just some more double stuff to her Oreo.
Chris starts out with normal questions. Like how's married life, etc. Catherine states that because she's a girl, she likes to try out new things, new adventures,.............................. so like "get fat" and "let yourself go." We understand, Cathy.
In other news, Sean still looks like he is 16.
No more wasting time. Chris cuts right to the chase and brings up their wedding night. "Let's hear about the first time you fornicated," was I think what he said.
Here is the quick rundown of the
first time Catherine & Sean did it
Catherine: QUICK fireworks
Chris: Welcome to the club
I AM DEAD. I am laughing out loud and I died. Catherine--you're kind of a monster for telling that to the nation, even if it was funny and playful. Just because you have Zooey D bangs doesn't mean you're cute enough to put your husband down.
COOL BANGS YA BETCH. I BET SEAN REALLY LOVED YOUR BANGS AFTER YOU HUMILIATED HIM IN FRONT OF THE HUMAN RACE.
You will never be the perfect bang ratio, Catherine.
Any who. Now we have Sean talking about the part of his honeymoon where a Sting Ray latched onto his man parts. Bruising involved.
Taken just moments later, post latching incident.
Sean and Catherine state they're back in Dallas, living married life. They go to my church, but I've yet to bump into them. I'll be sure to never mention this blog to them, should the moment come.
Catherine
kiddingly
states that Sean is old and it's time to start having kids. WHAT OTHER RUTHLESS, CRUEL REMARKS WOULD YOU LIKE TO THROW AT SEAN??? LET'S JUST GET IT ALL OUT, CATHERINE. HERE, TAKE THIS BASEBALL BAT TO HELP YOU.
Jokes aside, they truly are happy and obsessed with each other. Stay abstinent, kids.
Then something I wasn't mentally prepared for happens.
Enter: EXTREMELY weird cameo with The Muppets.
End scene.
Now we see the sharks from this season of The Bachelor. They're all dressed in your typical clubwear attire. Except for the ever-stunning Sharlene, who looks like she just left a wedding in which she was a bridesmaid.
Note that Dog Lover BROUGHT A DOG.
Rennee, are you Mexican now? Why are you so tan.
#PerfectlyBronzedFaces #BobbiBrownNumberTwo
Chris said that Juan has his moments. Then comes the playbacks of awkward scenes form this season, where all the girls feel embarrassment for once liking Juan.
We see Danielle with blonde hair. Dani, you are not beyonce just because you're a black girl with blonde hair.
And who are the women in this crowd? These women ages 55-65?? Moms of the girls? Aunts? Who are these people that want to see this show live???
Chris pressures the girls with questions about Juan and how this season went. All of them whine about how hard it was to relate to him and how he was "checked out."
CHECKED OUT??????? HE IS A LITTLE SLOW, OKAY, HE ISN'T COMATOSE???????
Then we see Dog Lover calling out Lauren for being different right no than she was in the house. Woof, dog lover, easy with the drama tonight. Chris is not afraid to put a shock collar on you.
Andi announces these girls were interested in finding a husband and Juan Pablo was only interested in finding a girlfriend.
WHAT DID SHE JUST SAY???????? GIRLS INTERESTED IN GETTING ENGAGED AND JUMPING INTO A MARRIAGE????????? A MAN NOT WANTING TO COMMIT?????????????????????? I HAVE NEVER HEARD OF SUCH THINGS????????????????? HOW COULD ANDI GET AWAY WITH MAKING SUCH BLASPHEMOUS ACCUSATIONS AND ACTS OF SLANDER????????????????????????????????????????????????
Thought: why is Rennee single? Why would someone divorce her?????
Cassandra, a girl my age, stuns in violet lipstick and perfect bronzer contouring. You go, oh wee one on the show.
Dog Lover is ALL UP IN A TIZZY tonight. She be looking for every opportunity to call Juan or one of the girls out on something they did or didn't do. #thatlooksexhausting
In a weird turn of events that doesn't involve tears for once, all of these girls completely condone Clare for sleeping with Juan in the ocean. I am using the word condone correctly. "We just didn't think of it." -Kat. "If I had felt a connection, I would have done the same thing." -Andi. So that is different. And unique.
Now Sharlene comes to the podium and judge Chris begins the interrogation.
He says she is the most intrigueing person. Chris, like me and the rest of America, has a crush on Sharlene.
Now time for the mash-up of clips showing Sharlene's experience in the season. My favorite part is when they show the replay of the season, then in the corner of the screen, you see the girl's face in real time.
We see Sharlene being committed to Juan and then wishy washy, then kissing him, then confused, then really into him, then not into him at all. Then plays the scene where she breaks up with him. True to form, we then see the scene of her regretting breaking up with him.
THIS WOMAN HAS OFFICIALLY CHANGED HER MIND MORE IN THE PAST 30 SECONDS THAN THE NUMBER OF OSCARS MERYLL HAS BEEN NOMINATED FOR.
Sharlene and Chris discuss how she and Juan had some mad sexual chemistry but nothing else. "Every women has had a solely physical relationship," -Shar
*gif of fifty-something women in the crowd nodding with reminiscent gleams in their eyes*
Then Chris reaveals to Sharlene that she was always one of Juan's favorites. The sharks nod and give testimony confirming his claim.
Next up: Rennee gets the hot seat.
When asked if she has a boyfriend, Rennee says, "I'm in a situation that I'm happy with."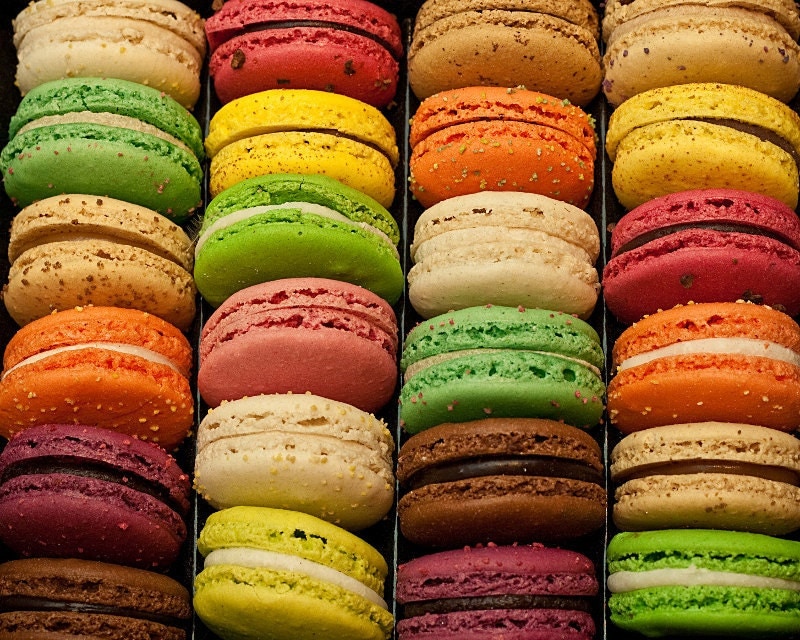 I felt the exact same way when I bought macaroons at Marshall's the other day. You read that correctly. Marshall's, like the other T.J.Maxx. Macaroons.
Now it's time for Chris and Andi to have their one-on-one.
Andi tells Chris everything we've already heard. No connection with Juan. Accent. Speech barrier. Mental Barrier. "It's okay" is annoying. Hot, but "not all there." Not interested in getting to know her. Etc.
Can we all just take a second to remember that YOU WERE INTO HIM, ANDI. YOU WERE FALLING FOR HIM.
"I will keep searching for that great love." Yeah, I WOULD TOO IF ABC WAS PAYING ME FOR IT. We all know she is probably the #FutureBachelorette.
The time as come for Juan Pabs to enter the shark tank.
"Would you change anything? Articulate anything? Say it differently?" -Chris.
hahahaaaaaaaaaaahahahahahaaaaa.
Poor Juan. I really do feel bad for him. I mean, I do, but I don't. It's kind of how I feel about women who bring babies into bars. It's like.....man, I feel bad for your situation right now but also you did this to yourself.
That was probably the worst simile to use, but let's move on from that.
So now Lauren gets the first question for Juan. NEWS FLASH, L. HE DIDN'T LIKE YOU NOR WANT TO KISS YOU, AND THAT'S THE END OF THE STORY, BUT PLEASE, BY ALL MEANS, BADGER THIS TO DEATH, AND EMBARRASS YOURSELF, PLEASE.
She says she didn't mean to make him feel awkward, but she is quite seriously making me feel awkward.
Now Cassaundra is attacking Juan for going to Rennee's hometown. Like, WHY? WHY DO YOU CARE HE WENT TO HER HOMETOWN????? HE LIKED HER. WHY DOES THIS KEEP YOU UP AT NIGHT, CASS. YOU HAVE A CHILD TO TAKE CARE OF. YOU'RE LIKE FOUR
she's my age whatever just let me rant
I am a little sweaty, like I'm getting hot, poor Juan is dying out there, literally being eaten alive. SOMEONE THROW HIM A LIFE VEST.
Then someone named Chantel starts speaking up about "fair and unfair" and honestly like WHO ARE YOU???????????????
Another girl we don't remember starts talking. I'm starting to feel like I'm at a big family reunion where people I'm supposed to know start giving their unwarranted opinion on things.
Alli dives into the "fair/unfair" discussion, in which the girls struggle to come to a conclusion exactly when Juan was fair and when he wasn't fair in multiple situations throughout the show, like kissing girls, using "honesty" as an excuse for everything, saying "it's okay," and finally, for blaming his accent on english as his second language. Prayers for the girls in this hard time of struggle.
Andi makes it a point to tell Juan he failed at getting to know the girls. Juan should know each of their favorite childhood candy, the organization of their computer desktop, social security number, and how many Twitter followers they each have.
Juan, you failed.
QUIET EVERYONE SHARLENE IS TALKING LET HER SPEAK. Ahh, yes, a light at the end of the tunnel for Juan, as Shar stands up for him. Shed felt he was very interested in her and asked her questions about her life and her quirks.
This place has so much "HE'S JUST NOT THAT INTO YOU" in it that literally Ginnifer Goodwin is about to manifest in the room.
Then Victoria attacks him for using the excuse "English is my second language." OKAY, HOOKED ON PHONIX SNOB, SIMMER DOWN, HERE. Really, there is no need to throw out that low of an insult. You're not cool because you speak english perfectly and putting down others who don't.
Then again, Victoria is probably drunk right now.
Dog Lover attacks Juan for the comments he made about homosexuality months ago. Again, like a dolphin rising from the shark pool, Sharlene to the rescue as she assures everyone they don't have the full story.
The bloopers. Ohhh, the bloopers.
Just remember, ees okay
{images: http://www.usmagazine.com/celebrity-beauty/news/catherine-giudici-gets-bangs-during-joint-haircut-appointment-with-sean-lowe-2014242, http://weknowmemes.com/tag/zooey-deschanel-face-to-bang-ratio/, http://wifflegif.com/gifs/153878-she-doesnt-even-go-here-mean-girls-gif}